Entry Requirements
You will require 5 GCSEs at grade 4 or above including Maths, English Language and Science or a relevant Level 2 qualification graded at merit in addition to GCSEs in Maths and English
Duration
2 academic years
Timetable
Check with tutor
---
Key features and Benefits
Enjoy guest speakers from the world of maths, astrophysics, cosmology, quantum physics, researchers, nurses, doctors and forensic scientists
Learn directly from tutors who are experts within the field of Science
Take advantage of work placement and shadowing opportunities with the NHS
Learn in our professional scientific laboratories
---
Overview
This is a two year course delivered in two one year durations.  You are able to choose from three distinct pathways within the field of Science at Level 3 Extended Diploma.
Applied Science
Forensic Science
Medical Science
Applied Science is ideal if you wish to pursue a career in those industries where a scientist is essential for research and development, quality control and hygiene.  You will study a wide range of topics from using mathematical tools in science, understanding human body systems, microbiology techniques and learning about industrial applications of organic chemistry.
Forensic Science is the study of gathering evidence from past events, usually as part of a criminal investigation or court proceedings.  During your course you will develop your observation and analytical thinking as well as patience and the ability to work independently or in a group as needed. 
Medical Science is ideal if you are interested in a career at the forefront of healthcare services as Medical Scientists are vital in the diagnosis of disease, determining the effectiveness of treatments and searching for new cures.
 Achieving D*D*D* (Triple Distinction Star) in your Level 3 Extended Diploma is equivalent to 3x A*s at A-Level and is worth the same amount of UCAS points (168). This makes these courses a brilliant alternative to A-Levels if you want to progress to a top university.
You will be able to discuss which of the three pathways you would prefer when you come into college for your interview which takes place upon receipt of your application.
What will I study?
Applied Science programme your will study a wide variety of topics within the areas of biology, chemistry and physics, specifically including genetics and genetic engineering, energy changes in terms of sources and applications, biochemistry and microbiology techniques.

Medical Science programme you will study the areas of health, physiology and disease as well as the areas of pharmacology, physiological measurement, clinical testing and medical research.

Forensic Science programme you will study the different types of potential evidence and how these are collected and analysed and the role of forensics within the justice system.
Entry Requirements
You will require 5 GCSEs at grade 4 or above including Maths, English Language and Science or a relevant Level 2 qualification graded at merit in addition to GCSEs in Maths and English.
How will I be assessed?
You will be assessed for a range of units, four of which are examined, and the rest will be through assignments including practicals.
What can I do next?
Those students studying Applied Science have the potential to move onto pharmacy, nursing or biomedical degree pathways.
Successful Forensic Science students could progress to study at university and go on to have careers as forensic scientists, analytical chemists, laboratory technicians, or work in the areas of toxicology or criminal justice.
Medical Science students can progress to careers such as a doctor, a medical technologist or working within radiography, nursing, physiotherapy and pharmacy.
Career Options
Biomedical Scientist
Biomedical scientists test samples from patients to support doctors and healthcare professionals in the diagnosis and treatment of disease. If you enjoy science and you are interested in medicine and health care, this could be a great job choice for you.
As a biomedical scientist you will need to have an enquiring mind and be good at solving problems. You will need to be able to concentrate for long periods of time and have good attention to detail.
To work as a biomedical scientist you will need a BSc (Hons) degree accredited by the Institute of Biomedical Science (IBMS). You will also need to register with the Health and Care Professions Council (HCPC).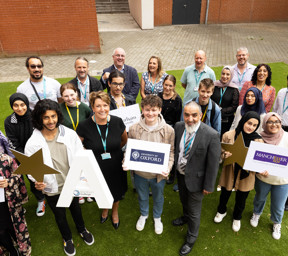 100% A-Level Pass Rate in 20 subjects

Blackburn College August 2022 Results