Key features and benefits
Study at our World Class Campus
Fantastic learning facilities
We work with over 3,000 employers to help you find a job
Rated "Good" by Ofsted in all areas - as of January 2022
---
Overview
Knowledge and behaviours
Primary knowledge will be dependent on the job specification
May performed task similar to team members, but this is not the primary function
Engage in managerial tasks in which other team members do not engage
Have a wide span of control, responsibility, authority or power and degree of autonomy
Have to make decisions which have some resource implications
Have to initiate actions in relation to the employment of others (e.g. be involved in, but not decide about recruitment, decisions or disciplinary matters)
Have to operate with less supervision and control by others
Plan work looking several weeks or months ahead
Have a greater knowledge than members of the team of specific requirements of customers or suppliers (conversely they are not likely to make decisions about varying terms of trading with customers or suppliers)
Be required to make subjective judgements that demand understanding of relationships between people working together (this may extend to the relationship between customer or supplier and the employing organisation or other market related criteria).
Team Leader Supervisor must manage people and have some form of budgetary responsibility, this can include making decisions about resource utilisation but the budgetary accountability for these resources exists at a higher level.
They will be professional in appearance, be able to communicate effectively at all levels, be able to manage projects and deliver presentations. Have a good standard of ICT including word, excel, PowerPoint. Excellent communication skills both verbal and written.
Apprentices must have 5+ GCSE Grade A*- C or 4 and above or have achieved Level 2 functional skills.
What will I study?
Develop knowledge and skills in:
Leading and managing people
Building Relationships
Communication
Operational Management
Project Management
Finance
Management of self, including self-awareness; decision making; responsibility; professionalism
Entry requirements
Apprentices must have Maths and English GCSE Grade A*- C or 4-9 and above or have achieved Level 2 functional skills.
How will I be assessed?
On-programme: Assessor workplace visits and assessments, day-release and completion of tasks.
End Point Assessment: Knowledge test; competency based interview; portfolio of evidence; Professional Discussion relating to CPD activity – These assessments will be undertaken by an assessor.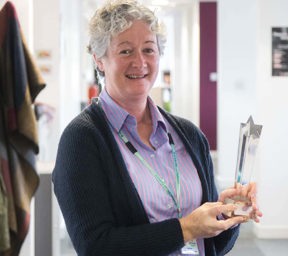 The course has been so beneficial and helped me as I moved into the role of a manager

Joanne Harris