Key features and benefits
Study at our World Class Campus
Fantastic learning facilities
We work with over 3,000 employers to help you find a job
Rated "Good" by Ofsted in all areas - as of January 2022
Blackburn College in partnership with May King Tsang, founder of May King Tea are pleased to offer the opportunity for you to attend our new Social Media Strategy for Business suite of courses.
Overview
Develop a detailed understanding of key social media specialisms to help you to promote your business.  This course is suitable for people who are responsible for the planning, execution and management of social media campaigns, social media specialists, enthusiasts, executives or anyone who would like to enhance their digital marketing knowledge in this area.  
Our industry specialist delivering the social media courses is May King Tsang, we are extremely fortunate to have May King undertake these courses for Blackburn College.
About May King Tsang: the tutor
May King Tsang has been using Social Media for her own business, for over 10 years, and has been a lecturer, tutor, trainer and speaker for over 20 years.
May King travels to the United States every year to attend Social Media Marketing World, the biggest Social Media conference, to learn the latest and greatest from expert speakers around the world, which she then passes onto her students and clients. She also attends conferences to learn from expert speakers in the UK, again to pass on her newly acquired knowledge to others.
May King has delivered training programs to thousands of businesses around the world from group trainings to one to one consultancy, helping Social Media Managers to produce the right content for their clients. She also produces Social Media Review and Strategy reports for business owners across the major Social Media platforms.
As a Twitter expert, May King is often asked to speak about Twitter in the UK, Europe, at face to face and also at virtual conferences. She is also asked to speak about Social Media strategy at various conferences too.
When she's not tutoring, you'll mainly find her Tweeting or Instagramming at @maykingtea, and you can also find her on LinkedIn at May King Tsang.
What will I study?
LinkedIn is more than a professional CV that you can place online.  In fact every single second of the day, 2 new members join LinkedIn.  It is the world's largest professional platform. Learn how to make the most of LinkedIn for your business, to network, generate leads and make sales.
The session will include:
LinkedIn Fundamentals

Why LinkedIn?
Understanding LinkedIn
Using LinkedIn partners

Set Up LinkedIn Profile

Profile
Media, Experience,
Accomplishments and Awards

How to use LinkedIn

Get connected
Offer and Ask for Skills and Endorsements
Write and Ask for Recommendations

LinkedIn Strategy

Comment and Post
LinkedIn Groups
Networking Online and Offline

Summary

Q&A
Additional Resources
Further learning
We will work live so please bring your log in details - and questions
Entry Requirements
There are no specific entry requirements however we would ask that students have basic computer skills and have a good command of English.  Please ensure that you already have your social media account(s) activated as there will not be the opportunity to set these up and remember to bring your passwords and log in details so that you can work live during the sessions.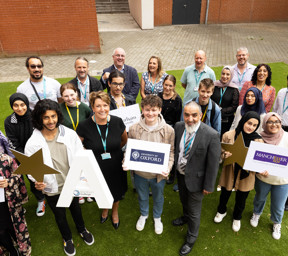 99.7% Overall BTEC Pass Rate

Blackburn College Results August 2021