Key features and benefits
Study at our World Class Campus
Fantastic learning facilities
We work with over 3,000 employers to help you find a job
Rated "Good" by Ofsted in all areas - as of January 2022
The Level 7 Advanced Diploma in Strategic People Management is designed to develop the depth and breadth of your understanding of people management practice, and will equip you with the insight, skill and confidence to operate in a strategic leadership role as a people management professional.
Overview
The Level 7 Advanced Diploma in Strategic People Management is designed to develop the depth and breadth of your understanding of people management practice, and will equip you with the insight, skill and confidence to operate in a strategic leadership role as a people management professional. You will develop your ability to diagnose people management issues as they affect organisational performance, and evaluate the options for strategic responses, that reflect the dynamic needs of employers and employees within the contemporary organisational context. This qualification is suitable for:

Experienced HR professionals and people practitioners
Those already working in a senior people practice role who are looking to develop their skills and understanding to enhance their ability to contribute at a more strategic level.
Those already in a senior leadership role within the field who are looking for ways to grow their potential and challenge their own thinking, creating value for themselves as professionals, and their wider context.

Fees

This is a two-year programme, students enrol yearly. The course fee for 2022/23 academic year is £2,550.00 per person. Fees for 2023/24 will be confirmed in 2023. In addition, you will be required to pay direct to the CIPD a joining fee of £40.00 and an annual subscription fee, currently £98 (subject to change). Find out more about this CIPD membership. Students are recommended to purchase the current course book published by CIPD.

Please note: You must remain in membership throughout all the time that you are both on the course and waiting for your certificate to be awarded. The CIPD will not process certificates for anyone who is not in membership, and dealing with such cases can delay the entire group from being processed in a timely manner by the Chartered Institute of Personnel and Development.

Booking

The first part of the application process is to submit your up-to-date Curriculum Vitae along with the Diagnostic sheet enclosed by email to business@blackburn.ac.uk.

The Programme Director cannot consider your application until this is received (if you have already done this already for this level (or you are a Level 5 progressing student with this institution) and been accepted, you may ignore this part of the process). You may then be either offered a place, or be invited in for interview (or interviewed by telephone) to decide if this is the most appropriate course for you. No monies will be taken until you have been awarded a place on the course. Further joining details will be provided, once the initial decision has been taken.
What will I study?
Year 1

During your first year you will focus on developing your understanding of the core purpose of the HR profession and how it is evolving within a dynamic social and commercial context. Over the course of this first year you will complete two of the core modules for the qualification:

Module 7CO01- Work and working lives in a changing business environment

This module will develop your understanding of the interaction between the shifting global social and economic context, and the current and future developments in the world of work, employment and people management. You will consider the core debates within the field of contemporary HRM, in terms of balancing commercial sustainability with the increasingly important people practices relating to ethics, well-being and inclusion.

Module 7CO02- People Management and development strategies for performance

This module focuses on the importance of evidence-based, outcomes-driven and principles-led practice in support of the core purpose of the people profession. You will explore how people professionals can deliver policy, practice and strategy that is aligned with organisational objectives, and which can add value, and contribute to organisational performance, through people management and development activity.

You will also begin to work on the remaining two core modules:

Module 7CO03- Personal effectiveness, ethics and business acumen

This module is about your own personal and professional development journey. The theories and concepts that underpin this module are fundamental to your own continuing professional development, and will underpin your ability to deliver fair and ethical advice and judgements, and to role model a culture of learning and inclusiveness.

Module 7CO04- Business research in people practice

This module will support you in the planning and implementation of a business research project. You will develop your business research skills, in the design and planning of a primary research methodology, and the analysis your findings, within the wider published research context. You will then produce a report which recommends a course of action for your organisation, and demonstrates your understanding of, and contribution to, evidence-based practice.

Year 2

In your second year, you will go on to study your specialist modules. The three mandatory core modules on this programme are:

Module 7HR01- Strategic employment relations

This module examines the different perspectives on the employment relationship, and explores shifting ideas of the psychological contract in a contemporary context. You will examine the contemporary role of Trade Unions, and consider alternative approaches to supporting employee voice in a modern workplace context, which must balance organisational flexibility with employee engagement.

Module 7HR02- Resourcing and talent management to sustain success

This module explores contemporary challenges within strategic talent management. You will consider contemporary approaches to the attraction, development and retention of talent, and examine the challenges of resourcing and talent planning for the agile and flexible organisation. You will explore the idea of building and maintaining a compelling employer brand, and discuss the benefits and challenges, associated with developing a diverse and inclusive workforce. You will also consider the contribution of performance management in supporting talent management and development.

Module 7HR03- Strategic reward management

In this module, you will examine the key factors that influence the design of reward policy. You will consider the external economic and social factors that drive expectations in terms of reward, and consider how to balance organisational financial considerations with external drivers and benchmarks. You will consider the practical challenges of designing pay structures and systems, as well as the ethical debates connected with ideas of fair reward.

The fourth specialist unit, currently offered is Module 7OS01- Advanced employment law in practice. (There may be an alternative choice in the future). This module focuses on the major principles that underpin employment law, and how these relate to employment disputes that result in employees seeking legal remedy. You will develop your understanding of the sources and development of employment law, and will examine the practical implications of key legislation and regulation in the workplace. You will develop your ability to advise on legal risk, and recommend responses that uphold principles of lawful and fair practice.

During the second year, you will also be supported in your completion of the core modules 7CO03- Personal effectiveness, ethics and business acumen and 7CO04- Business research in people practice.
Entry Requirements
This is a post-graduate level qualification, and is therefore designed for learners aged 21+. There are no formal entry requirements, but it is expected that you will already be operating at a senior level, or will have experience working in HR, and be progressing from another qualification (e.g. a business/HRM degree or the L5 CIPD qualification).

Find useful information about CIPD and insights into their programmes through their website, YouTube channel or Facebook.
How will I be assessed?
The programme will be delivered as a blend of traditional face-to-face classroom based learning, and virtual classroom learning (i.e. remote delivery via MS Teams or Zoom.) This is so that you have the opportunity to learn and network in a face-to-face context, whilst also allowing for more flexibility around work and other commitments. Alongside your interactive learning programme, you will need to commit and equal amount of time to your own self-study. This will include guided reading, work on assessments, and your own supplementary reading and research.

Assessment

There are no exams for this qualification. Each module will be assessed, and there will be a variety of assessment methods, including written reports, reflective accounts, group work and presentations.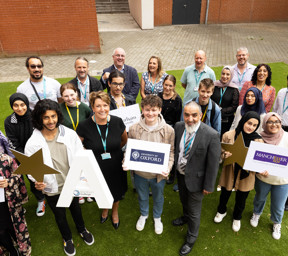 99.7% Overall BTEC Pass Rate

Blackburn College Results August 2021