Entry Requirements
You will require a minimum of 4 GCSEs at Grade 3 including one in GCSE Maths or English Language
Timetable
Check with tutor
---
Key features and Benefits
Enjoy guest speakers from the world of maths, astrophysics, cosmology, quantum physics, researchers, nurses, doctors and forensic scientists
Learn directly from tutors who are experts within the field of Science
Take advantage of work placement and shadowing opportunities with the NHS
Learn in our professional scientific laboratories
---
Overview
Applied Science, Level 2 is appropriate for you is you wish to pursue a career in most industries where a scientist is essential for research and development, quality control and hygiene or for those who wish to study science at university.
You will study in our well-equipped science laboratories within the sixth form centre.  This one-year course will provide you with a baseline understanding of biology, chemistry and physics.
The course is equivalent to four GCSEs.
During your time at Blackburn College you will be able to take the opportunity to upgrade your GCSE Maths and/or English Language results.
What will I study?
Skills and knowledge from across the main scientific disciplines (Physics, Chemistry and Biology) will be delivered via 12 units of study which include:

Principles of Science
Chemistry and Our Earth
Energy and Our Universe
Biology and Our Environment
Applications of Chemical Substances
Applications of Physical Science
Health Applications of Life Science
Scientific Skills
Understanding Human Behaviour
The Living Body
Chemical Analysis and Detection
Electronics in Action

You will participate in the work experience week in the summer and have the opportunity to go on various trips throughout the year.
Entry Requirements
You will require a minimum of 4 GCSEs at Grade 3 including one in GCSE Maths or English Language.
You will have to resit if you do not have both GCSE Maths and English. This is factored into the course.
How will I be assessed?
Principles of Science and scientific skills units are externally assessed via examination in March with a chance of a resit to improve your grade in May.
All the other units are internally assessed via coursework, with an opportunity of improving your grade by resubmitting your work.
You will also get an opportunity to improve your GCSE English Language and/or Maths grade by examination in June.
What can I do next?
Next Steps
On completion of this course, you may:
Progress onto the Science Level 3 Extended Diploma (subject to satisfactory completion of all aspects of this course), with a view to studying a relevant degree at university
Start an Apprenticeship in an appropriate sector
Find employment in the science industry
Career Options
Past students have completed this course and progressed onto the Science Level 3 Extended Diploma and then gone onto university to study:
Human Biology
Civil Engineering
Aviation Studies
Pharmacology
Biomedical Science
Pharmacy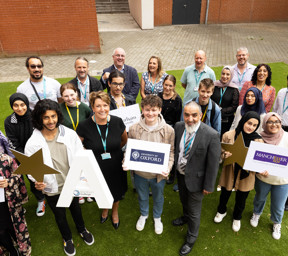 100% A-Level Pass Rate in 20 subjects

Blackburn College August 2022 Results