Entry Requirements
You will need 4 GCSEs at Grade 3 including English or Maths or completion of a level 1 course at Merit with a Grade 3 in English or Maths.
---
Key features and Benefits
Join our Career Academy and enjoy guest speakers from the world of business
Take part in work placements with top companies like Barclays, Santander or Marks and Spencer
Visit London's Old Bailey, High Court, Houses of Parliament and East Lancashire Magistrates Court
Demonstrate your entrepreneurial skills in the Dragon's Den, hosted by Boost, Lancashire Business Growth Hub
---
Overview
Equivalent in size to three GCSEs 8 units of which 2 are externally assessed. The BTEC first Award and the Technical certificate in business.
Business Level 2 is a 1 year course designed for students who wish to have a wide range of options to progress to a level 3 course and pursue a career in business or a business law or accounts environment.
The course will equip you with the skills and qualifications required by employers and colleges. Skills in Business will be useful across a range of careers and industries and offer excellent progression opportunities.
You will investigate real businesses; how they are structured, grow and trade.
What will I study?
Business Administration and Business units including using business technology, enterprise in the business world, planning an event and an optional unit that focuses on promoting a brand.

Enrichment and Employability?

In terms of employability, there are various opportunities working alongside local employers such as, Boots, Barclays, Marks and Spencer's and Costa, just to mention a few. Learners are able to attain a wide variety of skills from working with these employers ranging from customer service skills to team working.

Learners will also be Involved with the National Citizen Service programme, this consists of learners going on a residential trip to carry out team building and problem solving activities. The benefit of this is that learners are able to engage with challenges they have never faced before. This builds confidence, communication and team working skills, better preparing them for the future in employment.

There are other trips planned such as an Amazon visit, which will allow learners to witness first hand and gain an insight into how one the largest businesses in the world operate on a normal day-to-day basis.
Entry Requirements
You will need 4 GCSEs at Grade 3 including English or Maths or completion of a level 1 course at Merit with a Grade 3 in English or Maths.
How will I be assessed?
During the year you will complete a variety of assignments, which will be marked by your tutor and form part of your portfolio (some of the units will be externally marked by the awarding body.)
As well as taught lessons you will be encouraged to work on your own in one of Blackburn College's Learner Resource Centres.
What can I do next?
On completion of the Level 1 Diploma, you can then progress onto Level 2 in Business.
Discover other courses in Business
Career Options
Project Manager
Project managers plan and organise resources and people to make sure projects finish on time, stay within budget and meet the requirements of the business. They work in all industries from construction to IT.
If you are good at juggling several tasks at the same time, have excellent 'people' skills and can lead a team, this may be the career for you.
To get into this job, you'll need some experience of working on projects, for example as part of a project support team. Training and qualifications will also help, in particular, PRINCE2 certification.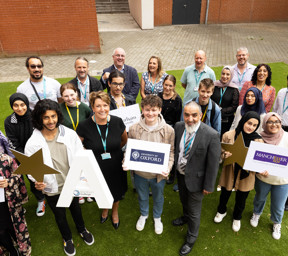 99.7% Overall BTEC Pass Rate

Blackburn College August 2021 Results