Entry Requirements
You will need 4 GCSEs at Grade 5 or above - and a grade 7 in GCSE Maths and will need to study A-Level Mathematics alongside
Duration
2 academic years
---
Key features and Benefits
New Blackburn Sixth Form
100% A-Level pass rate in 20 subjects
Increase in A-Level high grades A*, A, B
You may wish to study Mathematics, Accounting, Physics and Computer Science alongside this A-Level
---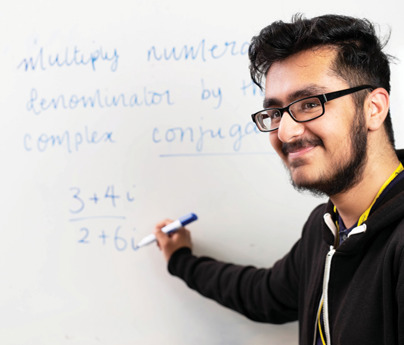 Overview
A-Level Further Mathematics is suitable for someone who particularly enjoys Mathematics and relishes a challenge.
It will extend your knowledge gained in Mathematics, enhance your problem-solving skills and give you an insight into a variety of areas of Mathematics, which you would otherwise not encounter.
It especially compliments Physics since it gives greater knowledge of Applied Mathematics.
What will I study?
The Further Mathematics syllabus has more flexibility than the A-Level Mathematics specification in terms of the applied Maths. The further pure content includes complex numbers, matrices, curve sketching, proof by induction and further calculus methods. The topics are similar from first year to second year, so it's a case of extending and deepening your knowledge of the methods.
In the case of the Applied Maths, you will study two from three areas: Mechanics, Statistics and Decision Maths.
So, you will further your knowledge of Statistics and Mechanics from A-Level Maths, but you also have the chance to study Decision Maths which includes topics such as algorithms, graph theory and critical path analysis.
Entry Requirements
You will need 4 GCSEs at grade 5 or above with at least a grade 4 in GCSE English Language. Please note for A-Level Further Mathematics you will need a grade 7 in GCSE Maths and will need to study A-Level Mathematics alongside.
How will I be assessed?
A-Level Further Mathematics is exam based only. To achieve an AS-Level Further Mathematics award you will sit up to three exams in the first year. For the full A-Level award you will sit up to four exams in your final year.
What can I do next?
Studying A-Level Further Mathematics is extremely useful since it compliments many other subjects especially Physics and Computing and other related degrees. Studying this subject eases, the transition between A-Level and Higher Education since it gives you a greater breadth and depth of the Mathematical techniques.
Career Options
Acoustic Consultant
Actuary
Chartered Accountant
Astronomer
Data Analyst
Software Engineer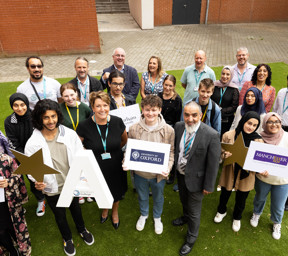 100% A-Level pass rate in 20 subjects

August 2022